Taos Community Foundation is pleased to announce grant awards of over $500,000 to local nonprofit organizations through the Impact 2022 grant initiative. This annual application cycle is a competitive process and culminates in grant awards in eight giving pathways – Animal Welfare, Arts & Culture, Basic Needs, Community Advocacy, Environment, Health, Education, and Youth. The grant docket is the culmination of several advisory committees, comprised of community members, who upon review, recommend a funding docket. "Although the Foundation has been focused in recent weeks on supporting fire relief through The Fund for Taos, we are also very aware of the importance our nonprofit organizations hold in our community" states Lisa O'Brien, Foundation Director. "It was important that we continued with this annual granting cycle, despite the process being interrupted with the need for fire relief", she added. Taos Community Foundation is proud to support this year's grantees during this uncertain time. As we all move towards recovery the nonprofit organizations in our community are crucial partners. They are vital to our strength and resiliency as a community. We thank this year's Impact 2022 applicants, and congratulate all of our grantee organizations.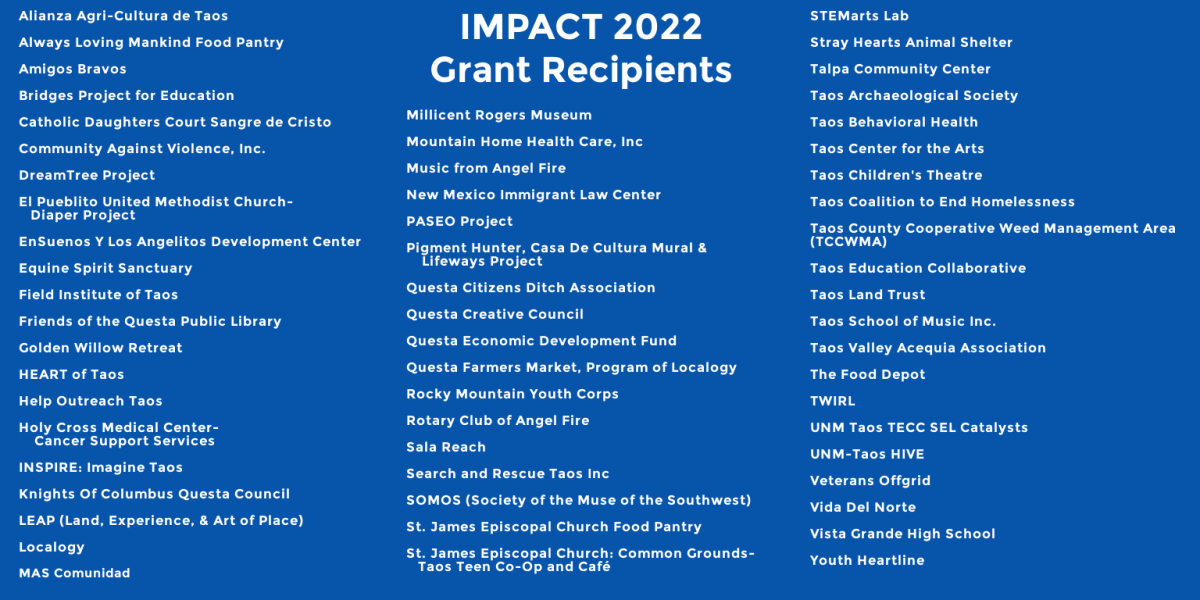 ---
Taos Community Foundation has raised over $882,000 for The Fund for Taos, our emergency action fund to assist with direct COVID response efforts.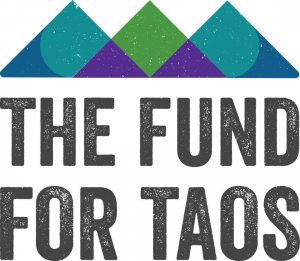 In its first phase, from March to July, the Fund for Taos deployed $249,700 to local organizations on the front lines of the pandemic through rapid-relief grants.
In the second phase of funding, grants were awarded to nonprofit organizations that are directly responding to the significant consequences of this crisis across our community in creative and collaborative ways, pivoting both their programmatic work and organizational management to enhance existing programming, develop new programming and otherwise meet the demands of this new situation.
---
---
Our Grantmaking Philosophy
Taos Community Foundation's grant-making philosophy is that any grant we make will support the improvement of our communities' quality of life. Grants are extended thru both competitive application cycles and also as direct awards from donor advised funds, that may be awarded throughout a calendar year. All grants awarded from Taos Community Foundation are issued in accordance with our Granting Policies.
Grants may be awarded to organizations that:
Are located to serve the people of Taos and western Colfax Counties
Are tax-exempt under Section 501(c)3 of the Internal Revenue Code or are a public or governmental agency or a federally recognized tribe in the State of New Mexico, or that have a fiscal sponsor;
Employ staff and provide services without discrimination on the basis of race, religion, sex, age, national origin, disability or sexual orientation.
Please sign up for eNews to be notified of any/all Taos Community Foundation updates and grant opportunities.
For More Information please contact Helen Forte, Director of Community Outreach (hforte@taoscf.org) or by phone (575) 737-9300