Taos Ski Valley raises $114,000 for the Fund for Taos!
The Village of Taos Ski Valley community raised $114,000 for the Fund for Taos, which is the specialized coronavirus relief, recovery, and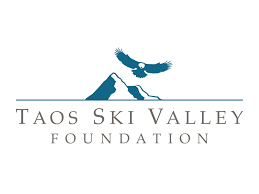 resiliency fund created by the Taos Community Foundation. The $114,000 came from Village residents, businesses, resort staff, and homeowners, and includes an earlier $25,000 donation and an additional $25,000 matching grant from the Taos Ski Valley Foundation, the New Mexico affiliate of Louis Bacon's Moore Charitable Foundation.
"The incredible generosity of this tiny community is staggering and we are deeply grateful for their donations," said Lisa O'Brien, Director, Taos Community Foundation. "These funds will help us serve area residents who are struggling amid the pandemic. What makes this fundraising extraordinary is that the Village of Taos Ski Valley is also experiencing economic stress due to the closure of the ski resort, yet the residents and businesses stepped up anyway."
With fewer than 90 full-time residents, the Village of Taos Ski Valley community was able to raise such significant funds due to the $25,000 matching grant from the Taos Ski Valley Foundation. Taos Ski Valley, Inc.'s executive staff made a large contribution and the ski resort helped spread the word by encouraging skiing enthusiasts to donate, including those who don't live in New Mexico. Local businesses, including ski rental shops, restaurants, and goods providers also made generous contributions.
"During this unprecedented time, the Taos Ski Valley community has demonstrated how a small group of people can drive extraordinary results. I'm proud of our local community's tremendous efforts and generosity in the face of this pandemic," said Louis M. Bacon, owner of Taos Ski Valley and founder of the Taos Ski Valley Foundation.
Taos Community Foundation has already distributed more than $200,000 in relief aid directly into the Taos area, including helping feed schoolchildren, supporting senior care, and working with shuttered businesses. The additional $114,000 from the Taos Ski Valley community will enable that work to continue throughout the summer as the community continues to manage the negative effects of the coronavirus pandemic.
About the Taos Community Foundation and the Fund for Taos
Taos Community Foundation is dedicated to serving the unique needs of the communities of Taos and western Colfax Counties. All contributions to the Taos Community Foundation's Fund for Taos (formerly the COVID-19 Response Fund) support local nonprofits responding to COVID-19 and its effects.

About the Taos Ski Valley Foundation
The Taos Ski Valley Foundation is an affiliate foundation of The Moore Charitable Foundation, a private family foundation founded in 1992 by lifelong conservationist Louis Bacon. TSVF supports conservation nonprofits that focus on protecting threatened landscapes, habitats, wildlife, and waterways. The Taos Ski Valley Foundation also supports educational and community programs in the Taos area.
About Taos Ski Valley
Nestled among the pristine peaks of northern New Mexico, Taos Ski Valley is undergoing a $300 million renaissance making it one of North America's premier vacation and adventure destinations. With over more than 300 inches of average annual snowfall, 300 days of sunshine and more than 1,200 skiable acres, Taos Ski Valley is the industry's only B Corp Certified ski resort, which means it operates with the highest standards of environmental sustainability, and social and economic justice. An independently owned and operated resort, Taos maintains an authentic charm while delivering a world-class experience both on-mountain and off for skiers and riders of all abilities.
Taos Ski Valley is proud to participate in the Mountain Collective and Ikon Pass.
To learn more about Taos Ski Valley and its B Corp commitment, please visit www.skitaos.com.