Taos Community Foundation Leonard and Jane Lecht Scholarship Awarded!
By Jacobo Dominguez, Taos Community Foundation Intern
Taos Retirement Village staff Billie Odum, Director of Nursing, Brian Chew, Administrator/ Executive Director, and Pamela Hovden, Director of Sales and Marketing, and Helen Forte and Jacobo Dominguez of Taos Community Foundation, joined Lecht Legacy Scholarship Committee Members Bill Waugh, Jean Smith, and Judy Anderson at the Taos Retirement Village Garden on Friday to present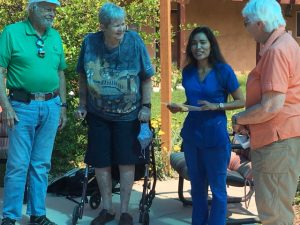 Maya Lama, Taos Retirement Village employee and UNM Taos student,  with the 2021 Leonard and Jane Lecht Legacy scholarship award.
Maya has been studying for her Associate of Science in Pre-Science since 2016 and is in her last semester. She plans to continues her studies after receiving her associates. Maya is from Nepal and has decided she to be a nurse after seeing members of her family fall ill, when she understood the importance of Nursing.  Billie Odum, The Director of Nursing at the retirement home stated "There is a very special quality about Maya. She is an amazing young lady. She has faced so many challenges. I am so happy she got this award."
Warmest Congratulations Maya!
This scholarship was established as a permanent fund in 2008. The annual scholarship award is available to one employee of the Taos Retirement Village for continuing education at an accredited institution of higher learning. Applicants must be currently employed by Taos Retirement Village, and for a minimum of at least six months.
Maya is completing her degree in nursing at UNM Taos and we are thrilled to award her this scholarship.