Call for Glass Artist Proposals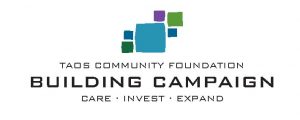 Taos Community Foundation (TCF) is seeking local glass artists to submit proposals for a permanent and collective glass art wall at the Foundation office. The art will be a permanent art-installation donor recognition wall at the entrance to Taos Community Foundation's conference room.
The selected work will be awarded a flat-rate $10,000 award. This amount includes all costs related to the Artist's design and project management fees; all subcontracted costs (materials, fabricators, studio expenses) and overhead costs (fabrication, transportation, delivery, installation of all art components and all taxes).
Interested artists should request the full RFP specifications via e-mail: info@taoscf.org
Or download the specifications by clicking here.
Click Here for ADDENDUM #1:
This addendum is a list of items such as corrections, clarifications, additions and/or revisions to the specifications for the original RFP issued April 11, 2019.
Preview of Office Space for interested artists:
Thursday, May 2nd at 10:30 at Taos Community Foundation 115 La Posta Rd.; Suite A Taos, NM  87571 (575) 737-9300.
RSVP to Alix Henry at 575-770-9978
Deadline for artist Questions Submitted to TCF Tuesday, May 7th at 5:00 pm.
Deadline for proposals Thursday May 16th 2019, 5:00 pm
Alix Henry, Donor Wall Coordinator
Taos Community Foundation
115 La Posta Rd.; Suite A
Taos, NM  87571
(575) 737-9300
info@taoscf.org