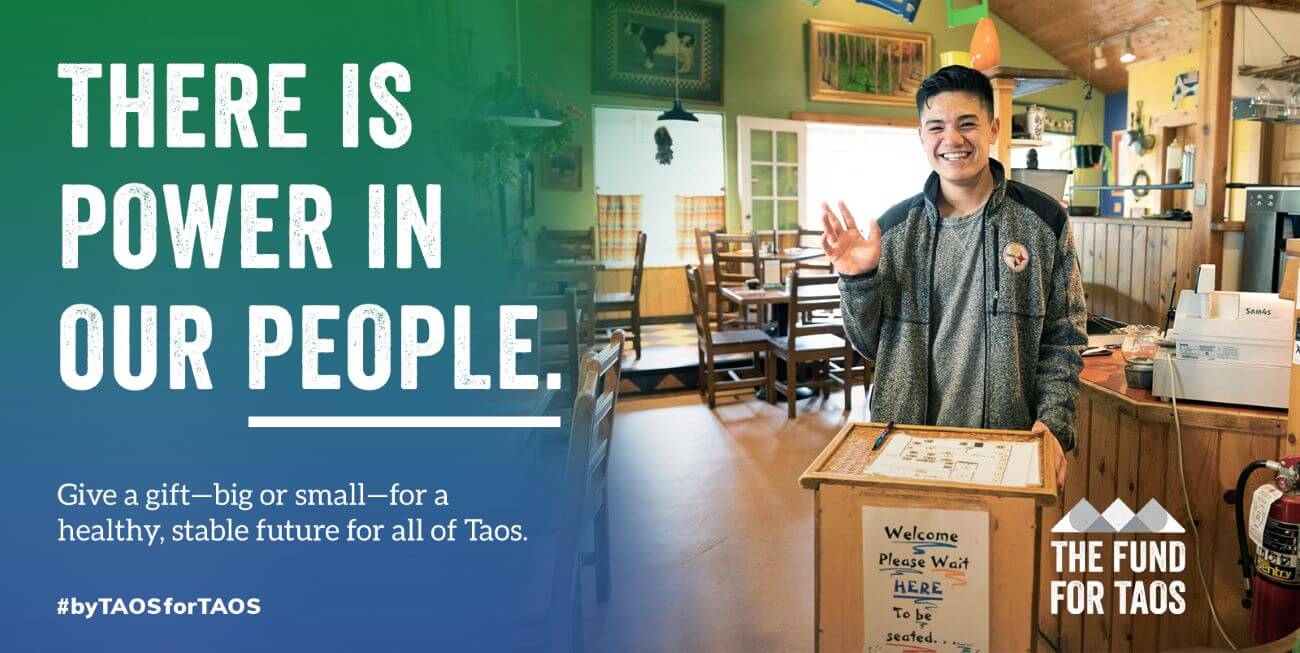 THE FUND FOR TAOS
THE FUND FOR TAOS
Emergency action fund at the Taos Community Foundation in response to COVID-19 and its effects.
Emergency action fund at the Taos Community Foundation in response to COVID-19 and its effects.
Join us in raising funds by Taos, for Taos.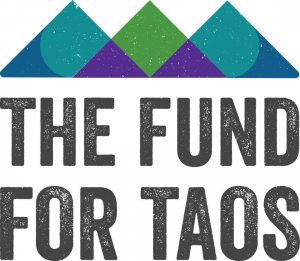 About the fund: 
The Fund for Taos is designed to respond quickly when kids might go hungry, when senior services might fray, when our community's most vulnerable need healthcare. We can't anticipate exactly what is on the other side of this, but we are going to prepare and then figure it out together.
100 percent for Taos. 
This fund is designed to provide flexible resources to complement the work of public health officials and local government and to expand our community's capacity to address all aspects of outreach as efficiently as possible. 100% of all contributions received are deployed into community as grants to nonprofit organizations. The Taos Community Foundation has intentionally established this fund with flexibility in mind to ensure that these resources will support community needs as conditions, circumstances, and needs change. 
How does it work?  
Emergency Action Funds are one of the key ways community foundations across the country respond when faced with the unanticipated shocks of a disaster. These funds, raised in an act of solidarity across a community, have the flexibility to respond to challenges ahead.
We are in this together, and that makes us stronger. 
In an act of solidarity with all of Taos, we invite you to join in. Together we are building a fund of $1 million #ByTaosForTaos. We ask you to give the gift of a healthy, stable future for Taos with any funds you can spare—$1,200 or $12. 
Why $1,200? In April, most Americans received a $1,200 stimulus check from the federal government to weather our current circumstances. For some families, this check meant they had a roof over their head and food on the table. For other families, those who are more fortunate among us, these funds represent an opportunity, a moment to give a gift that extends far past today, protecting our community and its most vulnerable well into our future. 
There is power in our people. Ask friends, family members, and people who hold Taos dear to pledge with you in support of the Fund For Taos at the Taos Community Foundation. Our goal is to reach 1200 pledges of $1,200—from groups of people, individuals, and businesses alike. Can't pledge the full $1,200? Find a few friends to sign on in support to reach that pledge together. 
About the Taos Community Foundation.
The Taos Community Foundation, founded over 20 years ago, brings together the financial resources of individuals, families, and businesses to support effective nonprofits that serve the communities of Taos and western Colfax Counties. Our mission is to connect people and opportunities, generating resources to build a more creative, caring and thriving community.
Thank you to Melissa Lind for the donation of photography to the Fund for Taos campaign.